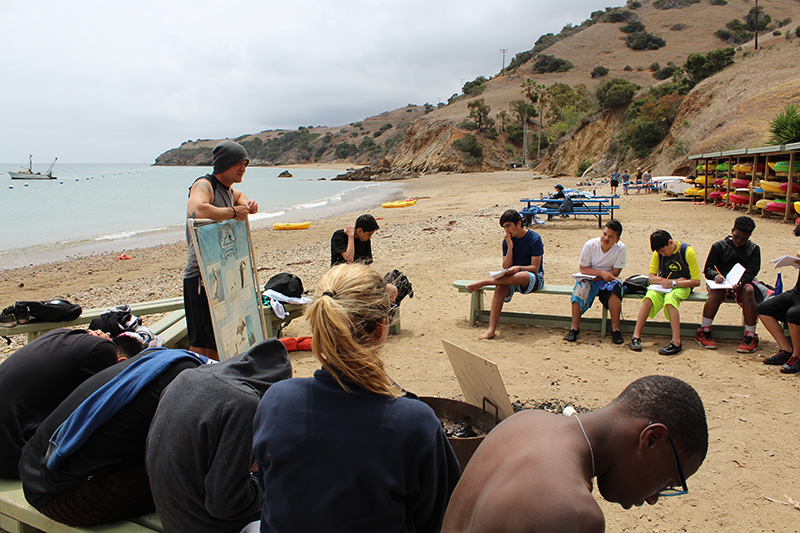 Catalina Island is an ideal destination to bring your class for an overnight school field trip to immerse your students in the awe-inspiring beautuy of nature. A few days at our campus at White's Landing is enough to ignite a life long interest in natural sciences and marine biology.
At less than a few hours away from Los Angeles, Catalina Island offers teachers a practical way to give their students an educational experience they will cherish for a lifetime.
Whites Landing or Floating Sea Camp?
Chose from our shipboard program, which is conducted on board our 112′ marine research vessel, 'The Enhydra'. Up to forty participants can enjoy the magic of living on a ship while cruising the various coves of Catalina Island and engaging in actual field science research!
Alternatively, you may wish to bring your students to our incredibly beautiful campus at White's Landing, which is the longest natural sandy beach on the island and the second largest canyon, as well. This provides the opportuity to see a plethora of introduced, native and endemic plants and animals such as bison, Catalina Island Fox, Channel Island's Ground Squirrel, deer, and an endless variety of migratory birds.
Program Overview
MSI's sea camp program is aimed at imparting a personal love and appreciation for natural sciences. Students get to participate in actual field research and get to experience what it is like to be a field scientist during their stay at camp. The result is that many campers have decided to pursue the hard sciences and have been inspired to make marine biology an academic and career choice.
Program activities include snorkeling during fish lab, kayaking during bird lab, hiking during natural history lab, trawling for plankton behind our pontoon boat during plankton lab, as well as dissecting squid, touching sharks and invertebrates in the touch tank, and lots of other hands-on exciting activities.
How To Get Started?!
Getting started is simple! We are here to talk to you about customizing your class trip just for you and discussing the logistics of bringing your students to sea camp on Catalina! Just call our office any time during normal business hours at: (310) 519-3172.